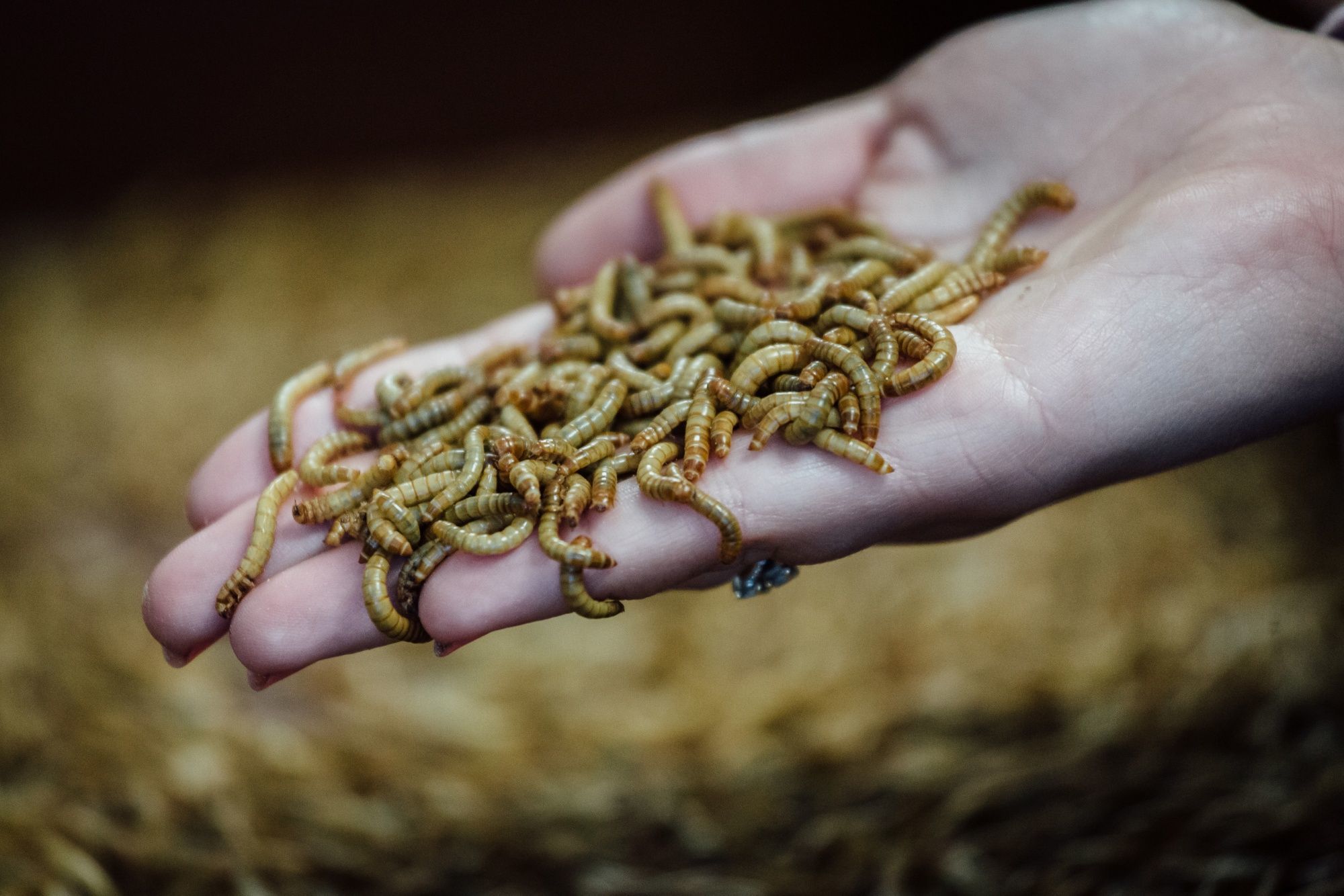 Category: News
11 October 2022
Workshop 1: Insects as the future of food proteins?
Last week, we hosted the first online thematic workshop of Global Foodture: "Insects as the future of food proteins?" With participants from 25 different countries, we had a great start of our activities, all aiming to stimulate international innovation collaboration between European SMEs and Asian partners.
Thank you Camila Cossettin Sibö B.V., Kanitsanan Thanthitiwat GLOBAL BUGS, Marcus Wong 黄俊维 Insect Feed Technologies, Juan Cortes Entomo AgroIndustrial, Ying Xuan Lim Enterprise Singapore and Jolijn Zwart-van Kessel Foodvalley NL for sharing your experience and insights in the field of insects for human consumption.
First, as a proud partner of the Global Foodture project, Jolijn Zwart-van Kessel – Innovation Lead Circular Agrifood presented the first insights of the Insect Scan that is jointly developed with Enterprise Singapore and will be published soon. The scan focusses on opportunities and challenges in Europe and Singapore and is aiming to inspire various stakeholders to bundle efforts to get insects on the plate of the consumer.
Moreover, Jolijn announced a kick-off meeting for active partners in the industry for edible insects to join forces to get insects to the plate of the consumer in NorthWest Europe. Foodvalley organizes a first brainstorm about this initiative the 24th of November.
Then, Ying Xuan Lim – Development partner Agritech in Enterprise Singapore gave us an overview of the insect industry and how industry, government and academia will hand in hand uplift the sector locally through the Singapore's National Agenda on Sustainable Development which includes the Green Plan (Sustainable Development Goals by 2030); the Zero Waste Masterplan; and the 30by30 goal for Food Security.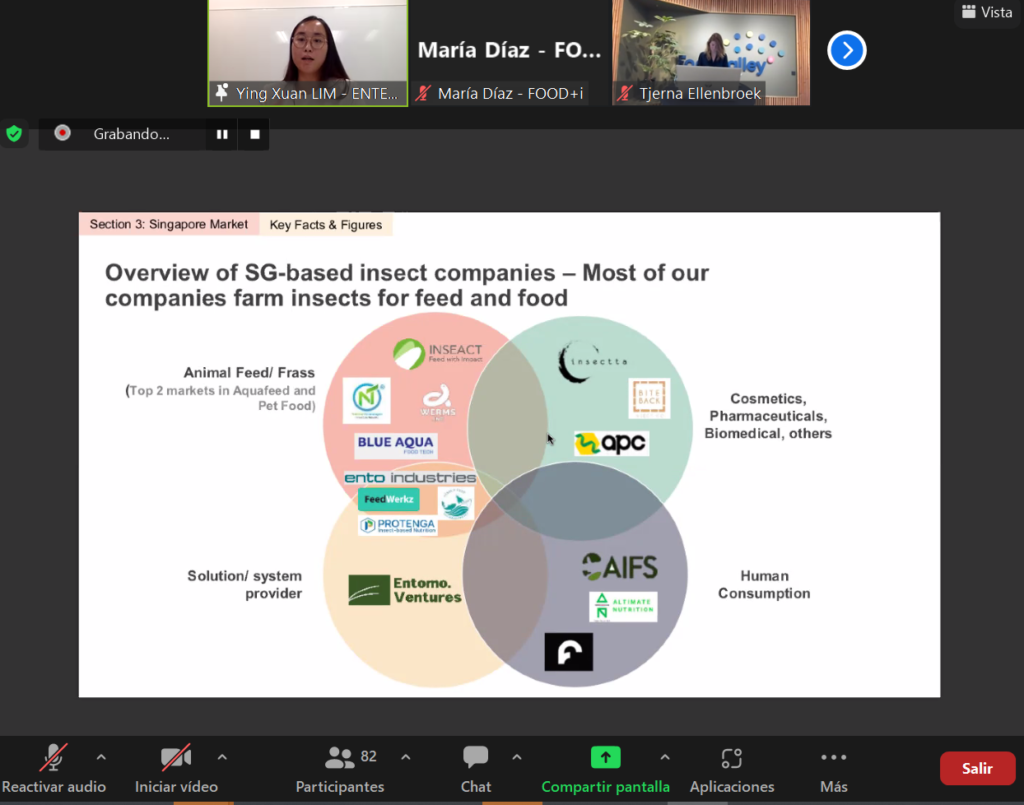 Be aware that the Singapore Food Agency has just published a public consultation for Singapore's first insect regulatory framework to guide the application of insects as food and feed. These changes will allow industry more flexibility to produce insects in a safe and sustainable way, particularly in the range of substrates which can be used, so consumers would also have access to safe insect food products. Further, it will also propose the allowing of import, sale and consumption of edible insects.
Afterwards, the first masterclass block, moderated by Tjerna Ellenbroek (Foodvalley NL), was about "Edible insect products for human consumption". Camila Cossettin – R&D manager at Sibö B.V., a biotech company that focuses on human consumption of insects and aims to solve the gap between insect companies and food manufacturers, explained the issues the industry faces such as inconsistent insect materials supply chain and the lack of functionality from the current insect materials that do not hit the requirements of the food industry, and how do they provide support on that.
Kanitsanan Thanthitiwat – Co-founder and CEO of GLOBAL BUGS Asia, a Thai Swedish company focused on healthy and sustainable alternative proteins, explained the journey of the company until they reached the 190th position on the Foodtech 500 in 2021 and how do they farm crickets and process them into high protein consumer products.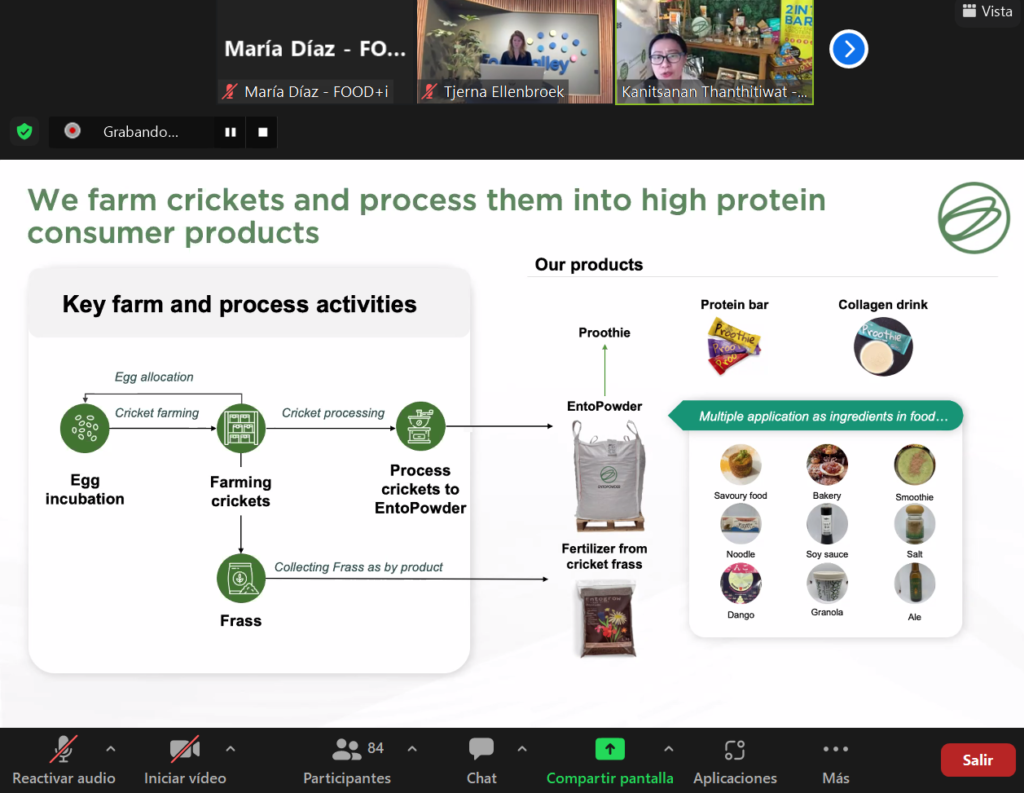 Finally, the second block of masterclass, moderated by María Díaz (Food+i), was for "Insects and valorisation of by-products". Marcus Wong – Head of Commercial in Insect Food Technologies, showed the audience how do they convert food waste into useful insect products: insect protein for animal and fish feed and frass for plant and soil nutrition.
Juan Antonio Cortes – R&D Manager of Entomo Agroindustrial, explained the use of insects in industrial solutions for the valorization of organic matter. Entomo' solution is located between the surplus of biowaste and the lack of raw materials (protein, lipids, chitosan, frass).
The online workshop was closed by Susanne Baden (Food&Bio Cluster) with the announcement of the next workshop on 17th November: "Are the future farmers flying farmers?", and the international training program and dedicated matchmaking which will begin at the end of November with Japan. Are you interested in international innovation collaboration with Asian partners in the field of insects, or other alternative proteins? Please visit the website for more information and register for the online thematic workshops or online matchmaking.
See the full webinar here! 👇🏻👇🏻👇🏻