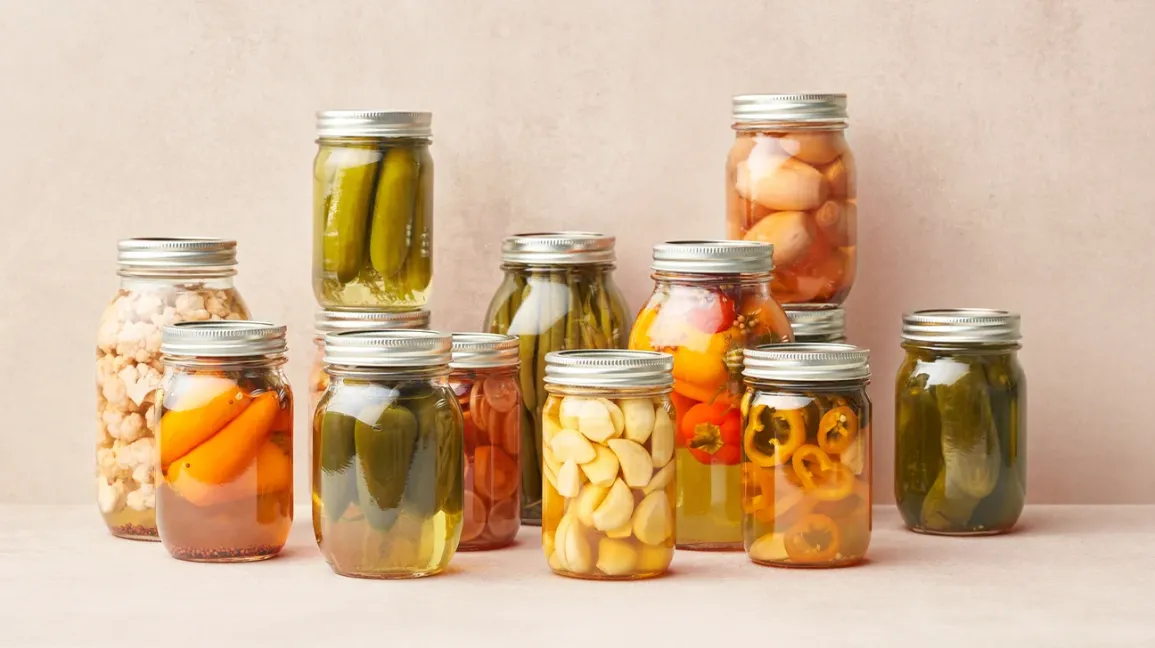 Category: News
11 July 2023
Workshop 9: Fermentation a cutting-edge technology?
On 15th June we carried out the nineth online thematic workshop of Global Foodture: "Fermentation a cutting-edge technology?" with more than 300 registered participants.
Research into alternative proteins is definitely in the spottlight. But if we have to choose one of the trendy technologies to meet this food challenge that open up great and close opportunities in the food industry, would be fermentation technologies.
The process uses microbes to produce proteins and other functional ingredients used mainly in plant-based meat and dairy-free products. The new protein products are attractive to vegans, because animals are not involved in their production. Using cells instead of animals to produce protein also offers environmental advantages, since cellular fermentation produces fewer emissions, requires fewer resources and can be produced locally.
Fermentation is empowering a wide number of companies to leverage new protein sources, creating products with improved consumer acceptance and enhanced production efficiency.
Thank you Satoshi Suzuki (National Agriculture and Food Research Organization), Dante Fratebianchi (CNTA), Alba González Costas (ODS Protein), Anneke Roes (Phycom), Gertjan Smolders (SPOT Innovation), Eugene Wang (Sophie's BioNutrients) for your inputs on Health, functional and personalised food.
The workshop was moderated by Leo Koning (Foodvalley NL) and Sofía Ros Palomares (FOOD+i – Cluster Alimentario del Valle del Ebro)
The opening was provided by Dr Satoshi Suzuki, Principal Scientist of Food Research Institute, NARO, Japan who introduced the topic: Japanese fermentation food.
The Institute of Food Research, NARO (NFRI) is one of the National Institutes in Japan, carrying out comprehensive food research from basic to applied. They study food safety, food function and food processing. Food in Japan conducts a broad range of food research from basic to applied, in order to realize a safe and healthy dietary life, provide appropriate scientific information on foods to the public, and contribute to the governmental policymaking for foods and development of the food industry.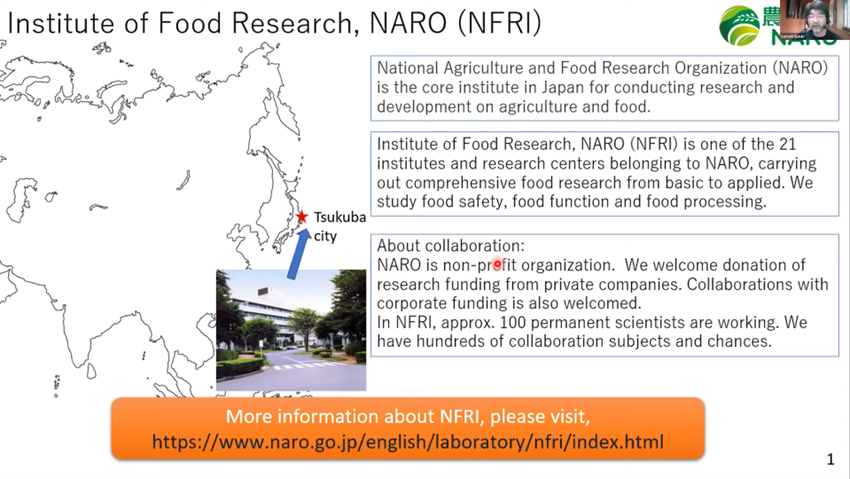 The topics covered were "Use of fermentation to produce ingredients" and "Alternative proteins round".
After Dr Satoshi Suzuki it was the turn of Dante Fratebianchi de la Parra, Head of Food Biotechnology R&D&I at CNTA with his presentation about fermentation as a biotech ally for obtaining new-generation food ingredients and products.
Dante Fratebianchi holds a PhD. in Chemistry focused on bioprocesses and has over 10 years of hands-on experience in the development of fermentation processes for the obtention of foods and ingredients aimed at the agri-food sector. Five years ago, he joined CNTA, first as R&D Researcher and more recently as Head of the Food Biotechnology section within the R&D&I area.
CNTA is a private non-profit association dedicated to enhancing the food sector's competitiveness and quality. They provide technical support in training, food quality and safety (through accredited laboratories), and research and development (R&D&I). Their R&D&I focuses on addressing challenges in the agri-food sector across various research lines, including new food sources, healthy product development, preservation strategies, innovative processes, quality and food safety 4.0, and food biotechnology.
Then, Alba González, Product Developer at ODS Protein presented its high value microproteins. ODS Protein is a Spanish protein manufacturer that employs filamentous fungi and fermentation techniques to convert food waste into valuable proteins. By utilizing this approach, ODS Protein achieves a highly sustainable and scalable production process, enhancing the nutritional value of target foods while ensuring cost efficiency.
Next, Anneke Roes, Phycom introduced their algae cultivation process and challenges. The shared mission of Phycom is to improve and strengthen the availability and quality of food for humans and animals. Enter microalgae as a significant food source. Algae as a means to the ever-present and daunting food challenges we face for our shared future. For nearly ten years, Anneke has been part of the Phycom-team. As a communication booster, she markets microalgae. Anneke translates the innovative food ingredient products into practical and market-need-to-know information. When it concerns fermentation, then algae should not be missing out.
Trends and challenges were discussed during the workshop as well as conclusions and outcomes of research and innovation projects.
We continued with Gertjan Smolders, manager at Spot Innovation. Dr. Ir. Gertjan Smolders has 30+ years' experience in Research, Technology & Innovation in the Pharma and Food Industry. In his career at Gist-Brocades and later DSM he has worked with fermentation processes from lab to full scale, including the startup of a full-scale fermentation plant in Delft. As Director Innovation and Technology, he developed functional plant proteins which resulted in the launch of a novel protein isolate from Canola/ Rapeseed. Since 2022 he is managing SPOT Innovation.
SPOT Innovation provides advice and guidance to the Life Sciences, Agro and Pharma industry with a focus on R&D, Innovation and Technology. With a broad experience in process and product development and commercialization, SPOT Innovation can offer a range of services for investors, start & scale-ups to increase the value of the research, accelerate growth and improve the business.
Next, Eugene Wang from Sophie's Bionutrients presented the company and how they went from plant-based seafood to microalgue fermentation. Eugene Wang grew up immersed in the vegetarian food business. Since 2010, his vision for launching Sophie's Kitchen, the first Plant-Based Seafood Alternative, has manifested into a viable category innovation lauded by the press and social media thought leaders. Sophie's Kitchen had won numerous recognitions from companies like PepsiCo and Chipotle. In 2019, Eugene took the alternative protein to the microorganism level and started another venture – Sophie's BioNutrients. The Singapore-based company, which grows microalgae in bioreactors and has recently expanded to Europe. The company created the world's first allergen-free microalgae-based dairy alternatives and microalgae-based burger patties with its microalgae protein concentrate.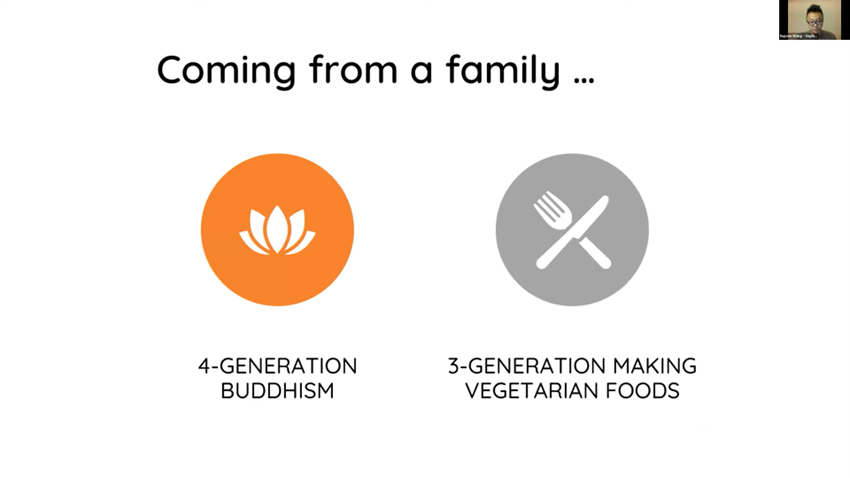 Finally, Nicolás Gallo de los Ríos from Innomy explained how Innomy specializes in the creation of cultivated meat using fungal cells, utilizing the finest representatives of the fungal kingdom to isolate and cultivate their tissues. Through a process of fermentation and administration of various substrates under suitable environmental conditions, the fungi grow until they reach the ideal size and texture to be harvested and transformed into food products.
The online workshop was finalised with an open talk moderated by Leo Koning (Foodvalley NL).
Are you interested in international innovation collaboration with Asian partners in the field of health, functional and personalised food? Please visit the website for more information, and register for the online thematic workshops or online matchmaking.
Discover all the details in the full webinar below.