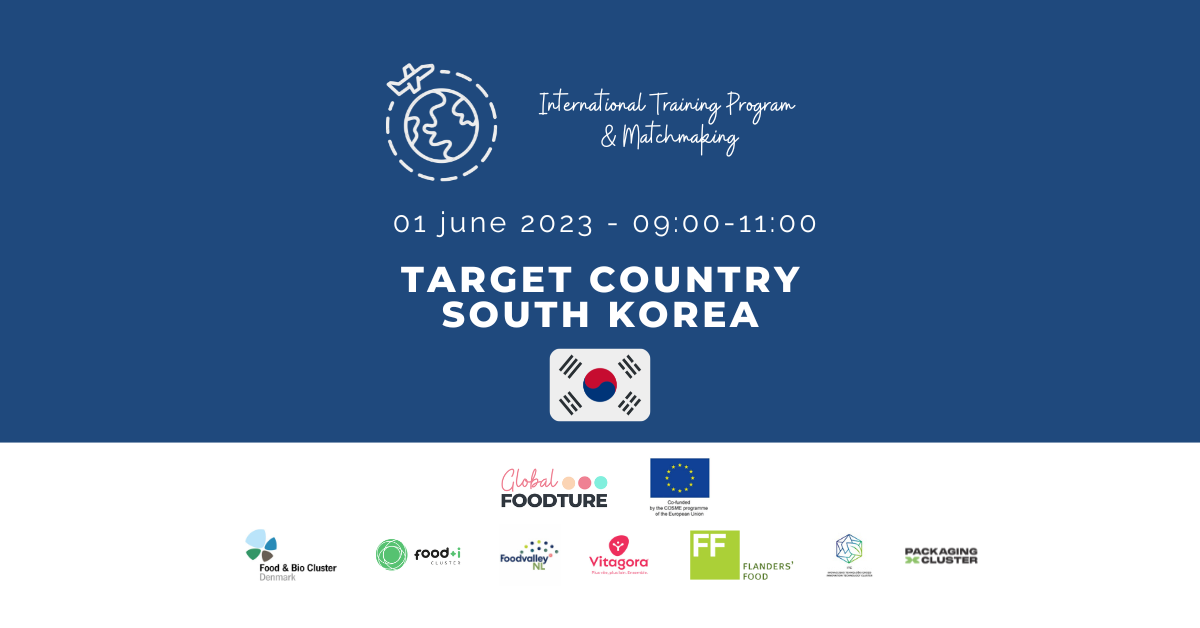 International Training Program and Matchmaking for a sustainable food system – target country South Korea
Our progress to the present owes much to the power of collaboration across borders.
Therefore, it is imperative that we equip ourselves with the skills to thrive in diverse markets. This comprehensive program aims to offer participants a deep understanding of both Korean and European cultures, traditions, business frameworks, and inspirational stories of successful collaborations. Meticulously curated, this training initiative aims to enhance the readiness of businesses in forging fruitful partnerships and achieving mutual success.
Agenda
09:00 – 09:05 Welcome and General Introduction: Ms. Sofía Ros, FOOD+i
09:05 – 09:25 Food Trends in Korea, Mr. Doming Lee, Gangneung-Wonju National University  
We will have the opportunity to learn and discover more on Korea's current trends in the Food industry. Through extensive research and expertise, Professor Lee explores the dynamic and ever-changing Korean landscape, offering a deeper understanding of the current shifts in consumer preferences and emerging phenomena in Korea.
09:25- 09:45 Introduction of South Korea Foodpolis and collaboration programs Ms.Seonyoung Park, Foodpolis
Seonyoung Park will introduce us to the captivating world of South Korea Foodpolis and its collaborative programs. With great expertise, Park will shed light on the initiatives and opportunities provided by Foodpolis, showcasing the vibrant ecosystem that promotes innovation and collaboration within the food industry.
9.40 – 10:05 Functional ingredients and healthy food, Collaboration Cases between Foodpolis and Companies, Mr. Jungmin Bae, Foodpolis
Jungmin will present an insightful exploration into the future of functional ingredients and healthy food. We will learn more about the collaborative efforts between Foodpolis and various companies, showcasing innovative partnership cases that drive advancements in the realm of functional food.
10:05 – 10:15 International Collaboration opportunities for the sustainable food industry, Ms. Ditte Veise, The Embassy of Denmark in Korea
10:15 – 10:40 Doing business across cultures: Europe and Korea, Ms. Marina Aguareles, San Jorge University
Successful collaboration between culturally diverse businesses requires improving intercultural communication skills and understanding institutional differences. Marina, is an experienced lecturer and researcher at San Jorge University in Spain, specialized in the fields of Intercultural Communication, Intercultural Mediation, and International Negotiation.
10:40 – 11:00 Q&A, wrap up & closing
Online matchmaking – How does it work?
Register on the Global Foodture platform
Create your profile
Browse through other profiles
Send & receive meeting requests
Don't miss this interesting training and matchmaking, please register here