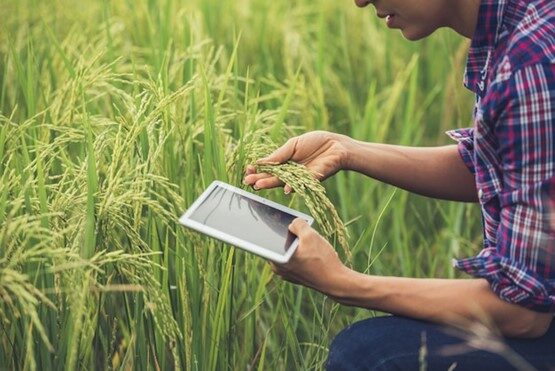 Category: News
15 March 2023
Workshop 5: Digital technologies uptake in order to support the future of the food system
On 16th February we carried out the fifth online thematic workshop of Global Foodture: "Digital technologies uptake in order to support the future of the food system" with the participation of more than 200 attendees.
A range of digital technologies in the food system are already leading to better informed and engaged consumers and producers, smarter farms and improved public services. These technologies range from simple off-line farmer advisory digital videos to complex systems such as distributed ledger technologies for value chain traceability and forms of precision agriculture. This masterclass will showcase how blockchain technology provides traceability, security and decentralization when dealing with data around food and how farm management systems help farmers optimize production activities and operations on their farms.
Thank you Prof. Muhamed Turkanovic (University of Maribor), Tomaž Levak (Trace Labs), Gary Loh (DiMuto), Antonija Šoštarić (AGRIVI), Srdjan Krčo (DUNAVNET), Zoltan Tarr (CUBILOG), and Takanori Nagano (Kobe University) for your inputs on blockchain and decision support systems.
The workshop was organised and moderated by Darja Kukovič (ITC Cluster).
The opening was provided by Prof. Muhamed Turkanovic, Associate Professor in the University of Maribor and Head of R&D at Blockchain Lab:UM who introduced the audience to digitalising traceability systems using blockchain technology as the natural technology go to.
Blockchain Lab:UM is a multi-disciplinary R&D team of researchers, developers and consultants that design, develop and evaluate blockchain-based solutions and services. Their activities are aimed at promoting, encouraging and fostering the adoption of blockchain technologies in the development of innovative information solutions and services supporting new and disruptive business models. Their mission is to assist companies in their digital transformation initiatives by supplying with high quality, modern and applicable knowledge enriched with good BC-related development & business practices. A special emphasis is on providing high quality blockchain solutions.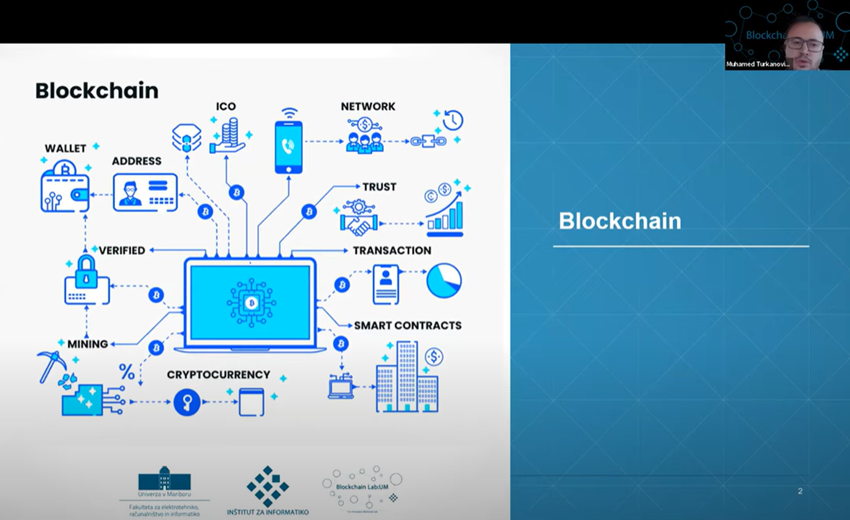 The first block of presentations was about "Blockchain traceability systems".
The first presentation was held by Tomaž Levak, Founder and Managing Director at Trace Labs. He presented the OriginTrail Core Developers: Trust and transparency of data in food supply chain using OriginTrail DKG. With its Web3, ORIGINTRAIL represents the next phase of the Internet, and the world's physical and digital assets are transitioning to this decentralized blockchain-based ecosystem. With assets being organized, verifiable and interconnected, everyone is able to transact and claim ownership to these assets. Trace Labs is building crucial infrastructure for the omniverse of technologies and data sources existing in Web3, transforming raw data into connected knowledge.
Then, Gary Loh, Founder and Chairman at DiMuto, presented from Singapore their AI-Powered Global AgriFood Trade with Visibility & Finance. DiMuto simplifies every step of global trade – from produce, trade to market, provision of sales, marketing, operations, financing and insurance tools so businesses can trade better. By capturing the data, we can demystify global trade, simplify operations for greater efficiency and establish winning outcomes for all stakeholders.
The second block of presentations was about "Decision support systems for farm management".
This block started with Antonija Šoštarić, Global Account Executive at AGRIVI. The AGRIVI approach to solving the global food problem is through the digitalization of agriculture that is by switching the farmer's decision-making reliant on traditional practices and historical knowledge to the new data-driven and fact-based decision making empowered by best-growing practices and real-time agronomic insights available using technology. They have built a comprehensive suite of digital agriculture solutions for farms, food companies, agribusiness banks, ministries of agriculture and other important stakeholders of the agri-food value chain to support them in adopting the change and empower their digital transformation projects.
Next, Srdjan Krčo, CEO and Co-Founder at DunavNET, presented agroNET: from optimizing farm operations to monetizing farm data. DunavNET is a provider of turnkey solutions based on IoT and ML/AI technologies for several industrial sectors, of which the most important ones are agriculture and manufacturing. Their portfolio of solutions is built using standardized, enterprise-grade technologies, and components, leveraging the established collaborations and partnerships with the leading global cloud, IoT and AI platform provider companies. They actively work with and contribute to the international research and innovation community and support young researchers and innovators.
Then, Zoltan Tarr, Product Development Lead at CUBILOG, talked about data-based precision livestock farming thanks to their solution. CUBILOG provides data collection and processing services for livestock farms and industrial plants with their own developed tools and software application and an experienced professional team. With this, they support energy savings, cost efficiency, production optimization, damage prevention and labor management.
Last but not least, Prof. Takanori Nagano, Associate Professor at our partner in Japan Kobe University, concluded this second block with the presentation of the project MARSWM-Asia: Design of an agricultural information system for the Asian Monsoon region. Rice is a staple food of many Asian countries. Productive rice cultivated areas are often situated in deltas which are subject to increased occurrence of severe flood damage and saltwater intrusion due to climate change today. The project MARWAM-Asia (2021-2023) is a scientific project among three counties (Japan, Vietnam and Indonesia) to develop a common water management platform, to mitigate flood damage during the rainy season and saltwater intrusion during the dry season to realize sustainable rice production in low lying areas.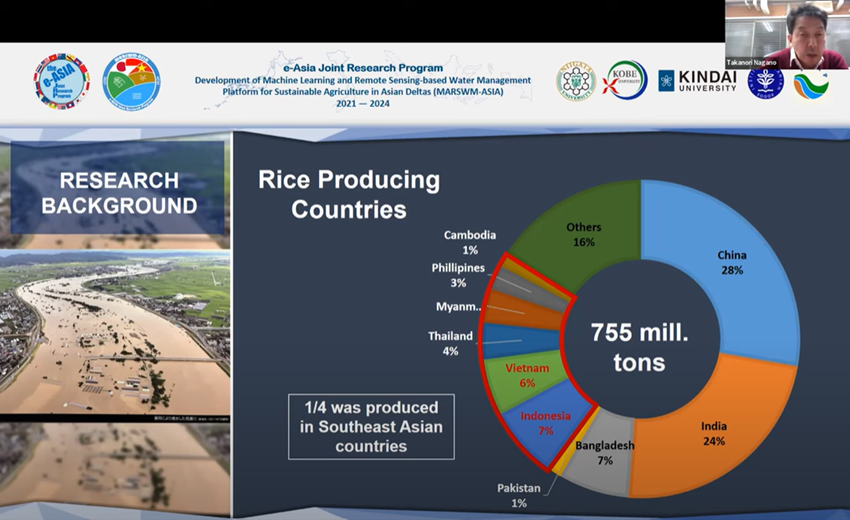 The online workshop was closed by Darja Kukovič (ITC Cluster) after the Q&A with the announcement of the next workshop on 16th March: "Personalised nutrition: how to bring personalisation to the mass?".
Are you interested in international innovation collaboration with Asian partners in the field of agriculture? Please visit the website for more information, and register for the online thematic workshops or online matchmaking.
Discover all the details in the full webinar below.